Code and Create with Apple
Apple products help students learn to code.
When you teach code, you're also teaching logic, creativity and problem solving —skills all students need for the future. The Everyone Can Code curriculum from Apple introduces students to the world of coding through interactive puzzles, playful characters and activities for both in and out of the classroom. And from the start, they'll learn to code in Swift, the same programming language used by professionals to build powerful apps. Everyone Can Code is a set of free resources built around the Swift Playgrounds app that inspires students to code and solve real-world challenges. It includes teacher and student guides that offer flexible, engaging lessons designed to work for an hour or a whole semester. For after-school or summer learning programs, there are complementary Swift Coding Club materials. And app showcases give aspiring coders a chance to celebrate their ingenuity with the community, whether they're learning in or out of the classroom.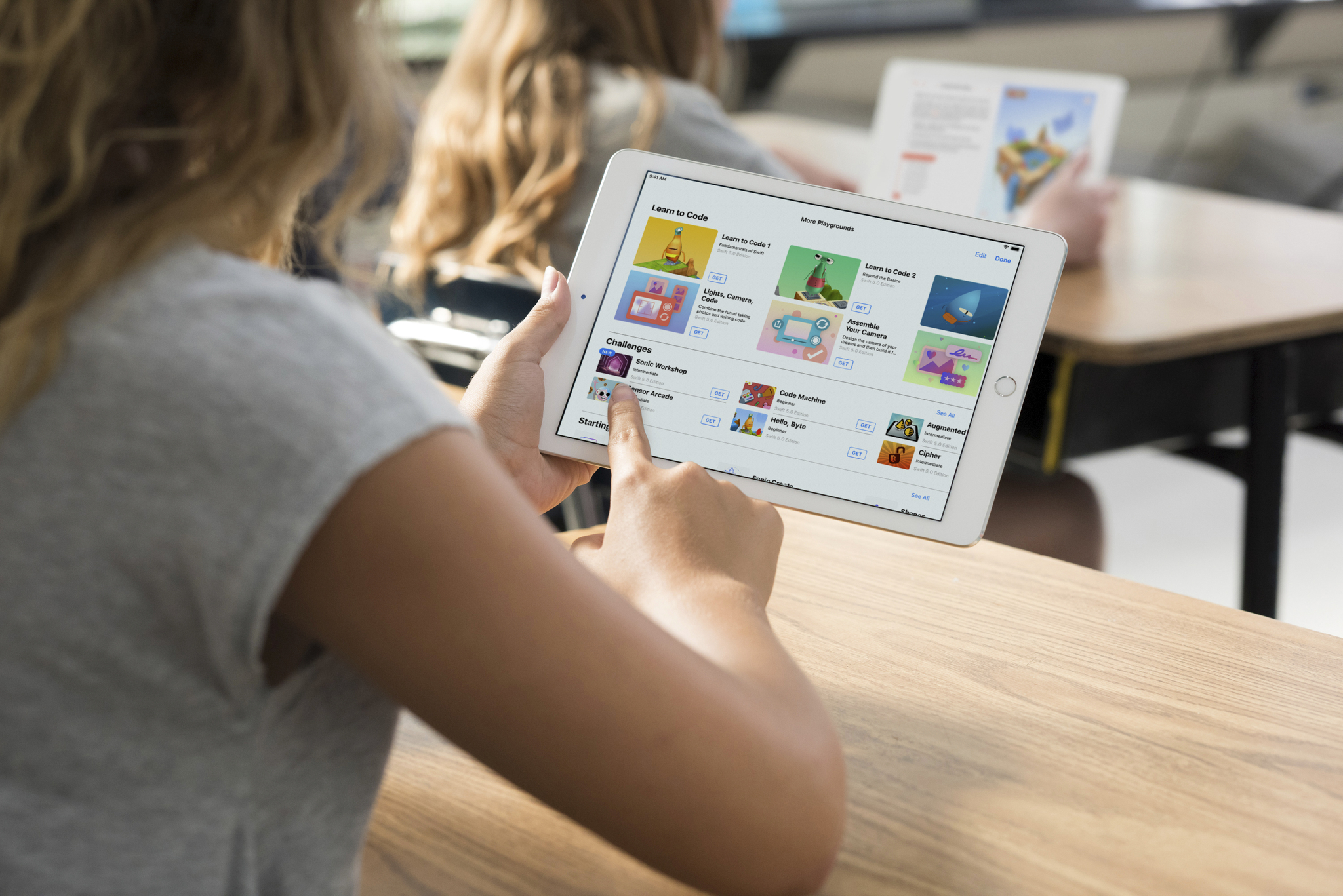 Apple products ignite creativity.
Apple was founded on the idea that technology can unleash creativity — and they've designed hardware and powerful apps like GarageBand, iMovie, Keynote, Clips and Swift Playgrounds to do just that. Technology can play a major role in helping every learner be a creator, and Apple knew they could do more to help teachers bring out the creative genius in every child. Because creativity needs champions, and nowhere is this more important than in the classroom. In 2016, Apple launched the Everyone Can Code program because they believe that every student should have the opportunity to learn to read and write code. Now they're going even further with Everyone Can Create, which introduces students to the skills they need to express themselves through drawing, music, video and photography with iPad. And it gives teachers meaningful ways to bring these skills into every subject — so students can get more out of the powerful tools they have access to every day. Each guide provides a range of projects to help students learn vocabulary and techniques in a specific medium. And the Teacher Guide has 300 ideas on how to integrate the projects from each medium into maths, literacy and literature, history and social studies, science and coding. Everyone Can Create gives students the tools to develop and communicate ideas with iPad. It gives teachers projects to bring creativity to every subject, and parents new ways to engage with their children and nurture skills for learning and beyond. It's about igniting and championing creative potential — because creativity is at the heart of what moves our world forward.